The renovations are done!! I love my updated house! Now that the renovations are done, and school started again, I now have more time to dedicate to scrapbooking!
The first layout I want to share with you is my first project with the new LCOM team. I was happy to be a part of the team for another term. This layout was made using Isabelle's wonderful sketch no 36 and uses some new and old Close to my Heart products. I simply love those
2 toned wooden embellies
from the Sarita kit. They coordinate perfectly with the
Sarita
paper and the picture of my kids lying on a blanket in front of me listening to Mercredi Show music.
This next layout was the last layout from the last LCOM design team. As a grand finale we were asked to do a double layout! I love double layouts but find I don't do them as often as I don't take as much pictures as I used to. Another fun sketch by Isabelle - no 35. I could not have picked a better kit than CTMH'
Laughing Lola
to match my pictures. The colors were perfect and the playful background gave the perfect mood for the fun pictures I had.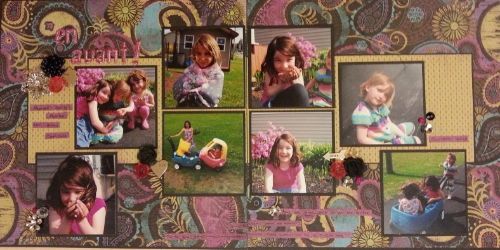 For both layouts, I added some alphabet stickers from American crafts.
Now with a little more time on my hands, I hope to be able to update my blog every week. Let's just hope I get to keep my mojo going. See you all next week!