What an amazing time I just had at Crop and Create here in Moncton over the weekend! A room full of ladies sharing the same passion for scrapbooking, a team of fantastic, fun and talented teachers, so much scrapbooking goodies, what more could we ask for? It was just what I needed to get inspired and create, to get my mojo running again.
I was not only able to attend 3 wonderful classes, I came home with all the layouts completed with pictures and everything! Want to see?
My first class was Friday night with
Vicki Boutin
. I love her! She's so fun and full of life. We made 2 double page layouts while learning new techniques. We did paper fringing, masking and stamping using stamps and paper cups to make circles and paper piecing using products from My Mind's Eye, Webster's pages, Doodlebug Designs and Hero Arts. I changed it up a bit from her original layout adding Thickers to make a title and using the other side of some of the paper she used. It was so much fun and I got to start adding layouts to my Disney album! How exciting is that!
The first layout features pictures from one of my highlight of our Disney trip, our diner at the Be our Guest restaurant. We were so overwhelmed by the decor that we actually forgot to take pictures! Entering the ballroom, seeing the snow falling on the mountains in the huge windows, the music and the gorgeous chandeliers under the painted ceiling left us in awe. The food was the best we had all week. It is definitely on top of our list to do for our next Disney trip.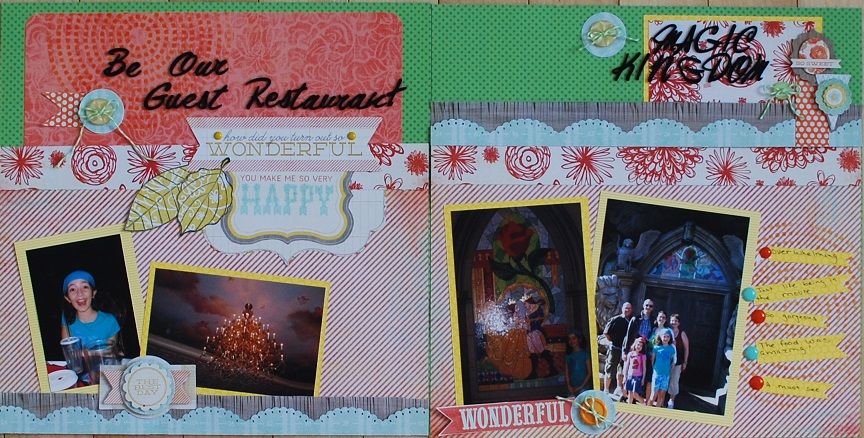 The next two features pictures from our our hotel. Art of Animation Resort was simply perfect. We loved all the the little details that made this resort magical. We stayed in the Little Mermaid wing where everything is scaled to Sebastian's point of vu, so Ariel, is 3 stories high! Our room was decorated in mermaid theme- see bottom carpet, Ariel's grotto shower, Octopus hooks for our jackets, shell shaped chairs and bed. It's just too bad that the weather was too cold to take advantage of the pool.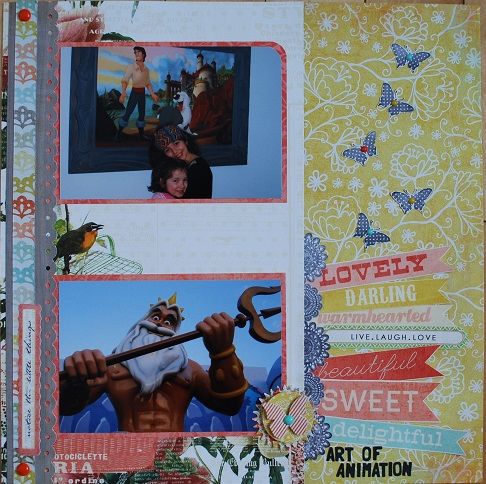 Come by again tomorrow to show you what we made in my Pattern Play class. Wednesday I'll show you my completed layouts from the Let's get Inspired class by Kelly Goree and Thursday I'll show you the other layouts I made using the challenges we were given. It was truly an inspirational and very productive weekend!